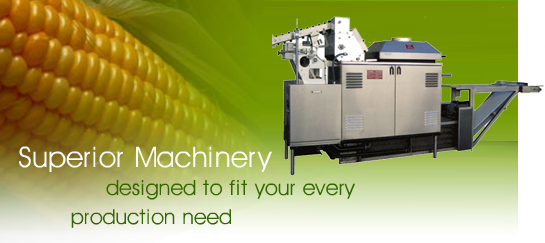 Being our most popular machines by far, Superior Food Machinery, Inc. corn tortilla machinery has always surpassed our customers expectations. From a small restaurant unit that produce 50 dozen per hour, all the way up to a large manufacturing unit that can produce 5000 dozen per hour, Superior Food Machinery, Inc. can provide your business with the efficiency it needs to be successful.

An example of an ideal corn production set up includes the following: A cooking tank to prepare raw corn for production. The cooked corn is then sent to a corn washer and fed into a corn mill. The corn mill grinds the whole corn and turns it into Masa. The Masa is then put into a feeder that extrudes it to the cutter. The Masa is then cut into a round shape. It is then cooked in the oven on a series of heated belts. When cooking is complete, the tortillas are transferred to a cooling conveyor for a thorough cooling process. The finished product is then sent to a counter stacker that stacks the tortillas according to your desired selling quantity.

It's as easy as that! Superior Food Machinery, Inc. provides all of these machines for your successful corn production line. For more information and pricing on our corn production machines, please contact Superior Food Machinery, Inc. 562-949-0396.